Looking for a great Italian pasta shop? 
Well, head over to JE&JO! A shop that crafts a wide variety of authentic Italian pasta and sauces. It's a 20 square meter Italian culinary lab!!
颜值与口味爆表的意大利面?那还不首选JE&JO!(JE = Jenny, JO = Jody,一家兄妹餐厅)位于上海市中心区域,,一家当作20平米的意面实验室,制作各类意面和酱汁的店,已经成为了上海美食家的必打卡地!
The same Italian pasta concept struck Jenny and Jody. They didn't originally aim to achieve a goal together, it was utterly a coincidence that they both came up with the same idea. Thus JE&JO was founded as a platform to use their existing knowledge as a base to explore further exciting unknown culinary concepts.
品牌创始人创立JE&JO初心是为了学习,在已知领域去探索未知领域,并不是为了一个目标。这是一种想法与机遇的"巧合",当然也少不了背后的努力!
JE&JO is for all Italian culinary lovers. Jenny and Jody are eager to share a state of mind and a kind of culture about one thing – food! 
他们期待着去分享的是一种状态,文化,归根究底就是吃,不仅仅是针对意大利美食爱好者,更是想让任何人都可以通过自己的一种方式去拓展自己的认知,而"JE&JO"对于他们来说是其中一种。
Coming into direct contact with ingredients and making food together as partners helped to settle down their minds and strengthen their sensory experiences which inspired them to utilize innovative parings and combinations of foods.
对他们来说,幸福大概就是和喜欢的人在一起做很多很多饭,能够脚踏实地地去接触到食材,和朋友们一起做一些会让人静下心的食物,发现更多的元素,玩弄搭配组合,带来更多无(美)形(味)力(体)量(验)。
意面
Red Campanelle, Fussili, Conchiglie, every type of pasta has a special texture and shape. Every type of pasta could paired with a special sauce.
Red Campanelle 红铃铛意面
Fussili螺旋面
Conchiglie贝壳意面
粉红铃铛意面, 螺旋面和贝壳意面,每一款也都可随意搭配每款特色酱汁,每一款无论是口感和外观都各有特点。
Campanelle is listed as #1 in both visuals and taste. In Italian, Campanelle means little bells. 
口感颜值NO.1的Campanelle(在意大利语里Campanelle是指小铃铛的意思)
This bell-shaped pasta is made of special ingredients which give the dough a pink color. Fresh eggs are mixed with wheat flour then freshly squeezed beet juice is added to change the dough from a golden colour to pink. The Campanelle pasta is then slowly dried under low heat to preserve the best flavours of all the ingredients.
红铃铛意面由于其独特的配方,面团呈现粉色颗粒状。新鲜的鸡蛋和小麦糅合,加入自磨的甜菜汁后治愈的肉粉色取代了金黄,慢速低温干燥的搅拌,完整保留了原料最好的风味。
Sauce
There are 4 main sauces at JE&JO – bolognese, mushroom sauce, seafood sauce, and pesto saucce. The Bolognese is the most popular. They are also constantly innovating and coming up with new sauces!
目前主要特色酱有肉酱,蘑菇酱,青酱和海鲜酱,陆续也会推出一些不同口味的酱汁。番茄肉酱意面是最百搭的口味。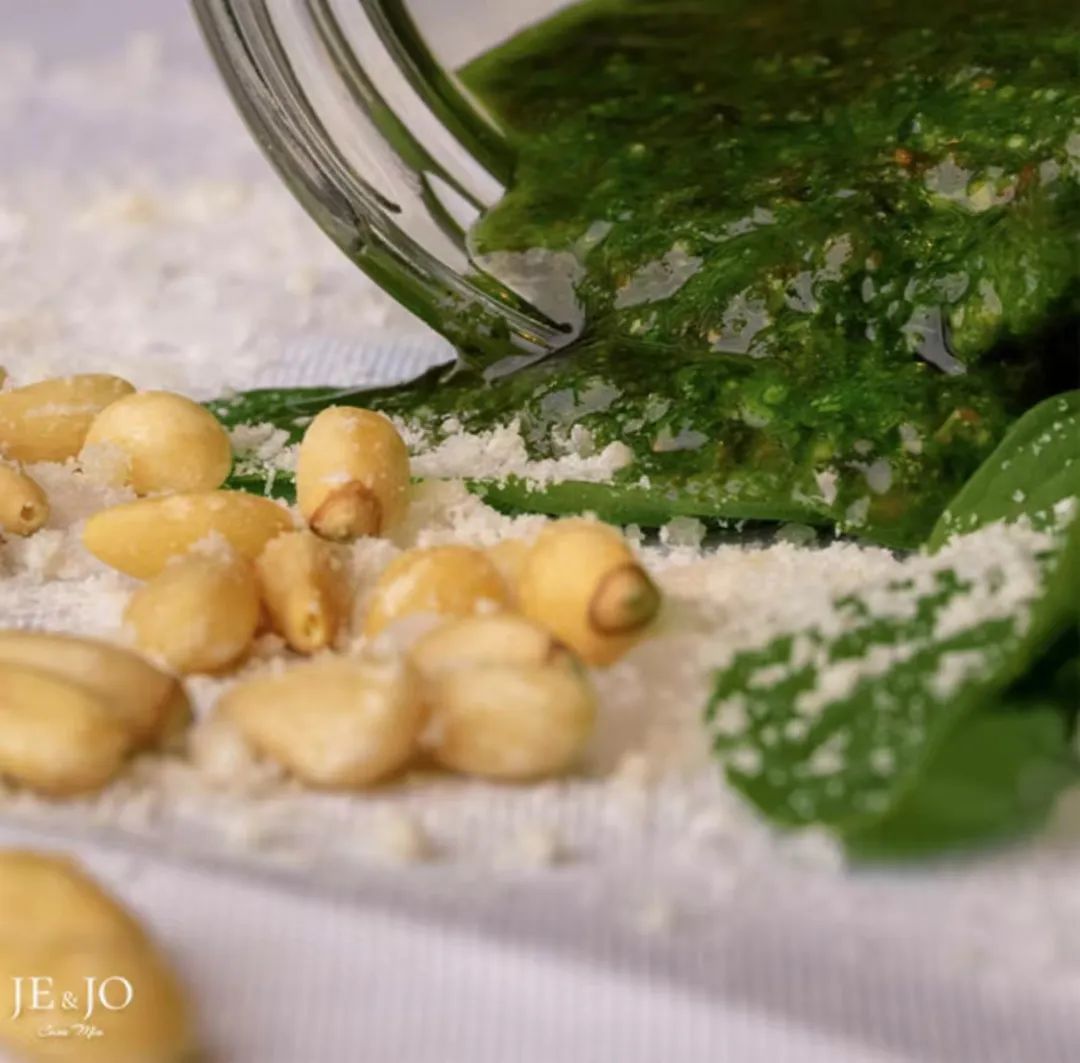 青酱

Pesto Sauce
 Traditional Lasagna Bolognese 
Traditional Lasagna Bolognese: It has many layers of different ingredients. Although it's a pasta dish, it almost looks like a cake! It's made of layers of stretchy cheese, chewy lasagna pasta, and tomato meat sauce to provide a multi-faceted flavour explosion!
叠叠增高,虽然说是面,但看起来又像蛋糕,既可以有芝士拉丝版的感受,又有结实的面皮和丰富的肉酱所叠加的口感。
ADDRESS:
Room#101, building#3, 1331 fuxing zhong lu