Take a beef patty, slap on some lettuce and cheese, and you're done, right?
来块牛肉饼,再加点生菜和奶酪,你就完成了,是这样吗?
Via giphy 图片来自giphy
Not so fast.
可没这么快。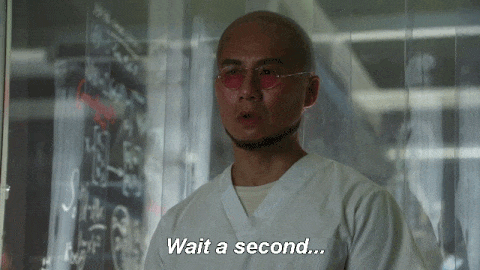 Via giphy 图片来自giphy
Thanks to our increasingly connected, globalized world, we've got a wonderful selection of flavours and ingredients from around the world to put on our burgers now.
多亏了全球化的发展,各地联系日益密切,如今我们从世界各地挑选美妙的口味和配料来制作汉堡。
Say it with us, 'No more boring burgers!' Let's check out some of these awesome flavours from around the world.
跟我一起念,"别再吃无聊的汉堡了!"让我们来看看这些来自世界各地的美味。
Korean Kimchi Burger
韩国泡菜汉堡
Via bhg 图片来自bhg
There's no better way to spice up a burger than with spicy kimchi. This fiery hot fermented Korean cabbage not only adds a wonderful kick, but the crunchy kimchi also imparts a nice textural flair.
没有比辣泡菜更能给汉堡调味的方法了。这种热辣的发酵韩国卷心菜不仅给味蕾增添美妙一击,而且脆脆的泡菜也赋予了良好的质感。
French Foie Gras Burger
法式鹅肝汉堡
Via dartagnan 图片来自dartagnan
The word 'gourmet' comes from French. Why did the English language adopt a French word to describe food of high quality and people who like said good food? Cuz the French frickin' invented the concept of culinary awesomeness. Give your burger a touch of haute cuisine with some foie gras – if you're balling, add some on black truffles for the perfect final touch.
"美食家"这个词来自法语。为什么英语用一个法语词来形容高品质的食物和喜欢分享美食的人呢?那是因为法国人发明了烹饪魅力这个概念。给你的汉堡加点高级菜肴和一些鹅肝酱-如果你在做球型,那添加一些鹅肝酱在黑色块菌上,使它的触感完美。
Chinese Roujiamo Burger
中国肉夹馍汉堡
Via thewoksoflife 图片来自thewoksoflife
Oh snap. The Chinese already have their own burger! Whoa, it could possibly date back to the year 200BC, which predates the earliest known mention that historians have found for hamburgers in the Western world by nearly 2000 years. Bam, the Chinese actually invented burgers. Now excuse us while we go buy one of these awesome spiced minced pork morsels of joy.
噢,快。中国人已经有自己的汉堡了!哇,这可能要追溯到公元前200年,早于历史学家在西方世界发现汉堡的最早记录,距今已有近2000年的历史。中国实际上发明了汉堡。失陪一下,我们去买一份美味的肉夹馍。
Indian Aloo Tikka Burger
印度Aloo Tikka汉堡
Via Julia Gartland @ pinterest 图片来自pinterest
Well to start things off, the cow is sacred in India and beef isn't very common on the menu. In order to localize and adapt to the country, McDonalds launched with a series of Indian-style vegetarian burgers. They featured an 'aloo tikka' patty made of boiled potatoes and peas seasoned with garlic, spices, and ginger and served it with a variety of chutneys.
好吧,开始吧, 牛在印度是神圣的,所以牛肉在菜单上并不常见。为了本地化和适应这个国家,麦当劳推出了一系列印度风格的素食汉堡。他们以煮烂的土豆和豌豆做的"aloo tikka"饼为特色,配以大蒜、香料和生姜,配上各种辣椒酱。
How about our readers? Do you have any interesting takes on the humble burger? Let us know in the comments below and don't forget to check out all the great deals we're running right now for our special Sherpa's burger fest!
我们的读者呢?你对这个素食汉堡有什么有趣的看法吗?在下方评论区和我们分享一下吧,不要忘记看看那些美味的订单,我们现在还在举办特殊Sherpa's汉堡节哦!
Thanks to our love of burgers, we celebrate these wonderful foods with promotions and polls! Plus many of our partner restaurants are helping you wash those beefy burgers down with deals on good beer. Cheers!
由于我们对汉堡的热爱,我们用促销和投票来庆祝这些美妙的食物!此外,我们的许多合作伙伴餐厅都推出了各种啤酒促销活动,便于大家搭配汉堡享用。干杯!
To find a list of deals in your city just open the Sherpa's App and tap the deals icon, for all our other events going on during Burger Fest just click the banner on the homepage of the Sherpa's App!
只需打开Sherpa's APP并点击促销图标,就能找到你所在城市的美味,对于我们在汉堡节期间正在进行的所有其他活动,只需单击Sherpa's APP主页上的横幅即可!
Also, we'd love to hear from you. What are your favourite burgers? Let us know in the comments below. 
另外,我们很乐意听取您的意见。你最喜欢的汉堡是什么?让我们知道在下面的评论。
Lucky Coupons
Make sure to check the Sherpa's app Monday through Friday of the fest for your chance to score lucky coupons
Join us in celebrating the humble burger this May & June. Enjoy!
For business please contact

mail: katy@sherpa.com.cn