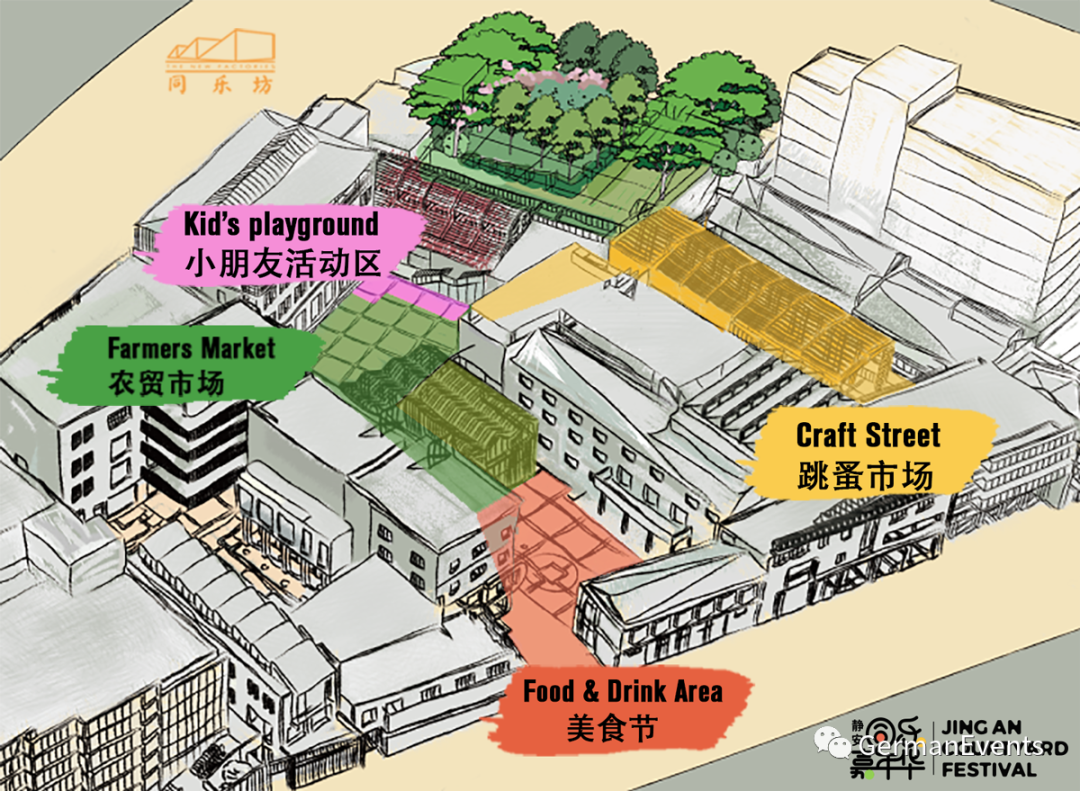 The biggest courtyard festival Jing'an has ever seen! A festival for all ages! Get ready to feast on amazing food and drinks at our food fest, hang out at our chill areas and refresh yourself with cold beer, cocktails, non-alcoholic juices and drinks! Shop at the craft street, try and taste home-made items at the farmers market and let your kids enjoy our extended kids' area!
上海最受欢迎的欧式庭院美食节要来了,一个适合所有热爱多元化生活的人们,在这里你将体验到魔都最酷的中欧文化交流,享受美食带来的味蕾盛宴,午后在舒适的庭院和好友家人,来一杯清爽的啤酒、鸡尾酒、果汁或冰淇淋夏日加分体验!
Next weekend, find us at Sherpa's booth as we will hold a Charity sale for Shanghai Sunrise. * All profits made will be donated directly to Shanghai Sunrise
下个周末,Sherpa将联合上海初阳在嘉年华现场进行慈善义卖,所得收入将全部捐赠至上海初阳 。记得来我们的线下摊位逛一逛,为慈善事业助力!
Over 45 vendors will bring you the best of FOOD, DRINKS, CRAFT, DESIGN, ART, CHARITY and muchmore!!!
超过45个摊位将会提供给你最棒的美食体验,手工艺品,慈善义卖,宠物领养和其他各种各样有趣的活动体验。
City Moments, GermanEvents and Tonglefang will host the festival on Saturday & Sunday, July 25th /26th 2020! No entrance fee! 
Join us for this special occasion from 2-10pm on Saturday and 2-9pm on Sunday! 
本次活动由City Moments携GermanEvents在同乐坊将于2020年7月25日/26日,周末对外免费开放!星期六中午到晚上十点,星期天中午到晚上九点。
Come hungry! Lots of tasty food dishes await you! Sit in one of our many chill areas and enjoy the food, sip on cold beers, cocktails and other drinks! A weekend to indulge and relax!
准备好你的胃,我们准备好美食!你可以在靓丽的休闲区享用美食和酷饮,拥有一个轻松放任的周末。
It's all about fresh products such as vegetables,

olives, home-made hummus, bread and beautiful flowers
新鲜的农产品:有机蔬菜,橄榄,鹰嘴豆泥,面包和鲜花
After you've satisfied your hunger stroll along the craft vendor street and shop for products ranging

from FASHION over JEWELRY to HANDMADE CRAFTS!
集市将会展出本土的艺术作品,从新奇的文艺到潮流的首饰和手工剪花贺卡等等
An extended kids' area with various activities, DIY area, fun games and face painting plus a football wall by Dortmund is waiting for the little ones! This is your chance to get some time by yourself dear parents

我们会提供亲子玩耍区域和各种游戏,有人脸画像,足球等其他运动!
Hippie Music and Chair Club will take care of some live entertainment to keep the mood high! A special flee market for second hand music instruments will be hosted by Hippie Music!
现场Hippie艺术家的助兴表演!一个特别的二手乐器交易现场!
Don't forget ADOPTION DAY for our furry friends!And special charity organizations joining!!!

还有领养毛茸茸的朋友(猫和狗)的领养日!更有爱心慈善机构的加入。
See you on the 25th and 26th for a weekend of fun!
期待月底和大家的见面!