It's 6 PM on a Winning Wednesday, which only means one thing: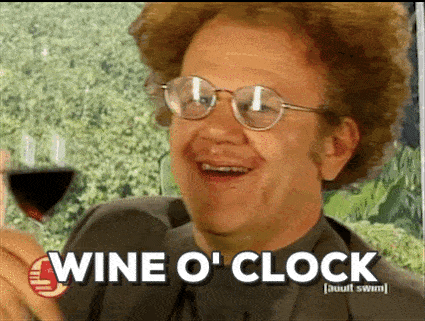 Image via giphy.com
That's right. Winning a nice bottle of wine will have you feeling fine in no time.
So it's a good thing that our friends over at Le Gourmand are offering two lucky winners a free bottle of Flutt White Bairrada or Flutt Rose Bairrada from Portugal!
Image via portugalvineyards.com
Flutt White is a bright, citrine-coloured effervescent wine and an award-winning delicacy! It took home the 2018 Portugal Gold Medal for sparkling wines and has scored four medals since first entering the market in 2017.
Image via portugalvineyards.com
Flutt Rose features a fresh, flowery aroma with wonderful wild berry notes. It takes on a pinkish colour with a salmon hue after its second fermentation in stainless steel vats. The persistent effervescence provides a creamy mousse texture with lively, balanced acidity.
 For your chance to win, scan the QR code below to visit our WeChat account, comment 'Wine wine wine', and tap 'Wow'.
Contest ends this Friday at 6 PM
Via Le Gourmand
Le Gourmand Co., LTD is a wine importer and retailer that specializes in boutique wines. They mainly work with family estates throughout Europe, with a focus on wines that are naturally made or produced with traditional techniques. Most of these family estates have been creating amazing wine with these old-school methods for generation after generation.
Via Le Gourmand
Le Gourmand's wine selection features predominately organic or bi-dynamic certified wines or wines that are cultivated and made in organic, natural ways.
Via Le Gourmand
They aim to provide customers with authentic wines that represent the terroir of the region, the passion and personality of the producers, and, finally, the art and craftsmanship of the winemakers.
Via pixabay.com
If you don't end up winning this contest, don't fret. Le Gourmand is hosting a limited time only promotion exclusively for delivery via Sherpa's. Customers can snag a free bottle of Canto Alentejano, Flutt White Bairrada, or Flutt Rose Bairrada when they spend ¥380 and above on an order from Le Gourmand.
 For your chance to win, comment 'Wine wine wine' below and tap 'Wow'.
Via giphy.com
 Competition Details
◦   Entrants must comment, and tap 'wow' to qualify
◦   Prizes can not be exchanged for cash
◦   Prizes can only be used in the restaurant
◦   Sherpa's has the final say in all competition rules and winners
◦   Ends Friday, September 13th at 6 PM
◦   This prize is not offered by Sherpa's but by a third party and Sherpa's can not be held accountable for problems that may arise in relation to the prize
Le Gourmand is available for delivery through Sherpa's! Grab a great bottle of wine today.
---